About the Tri-State Chapter (Scleroderma Foundation):
servicing NY, Northern NJ and Connecticut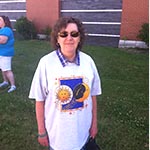 The Tri-State, as with all of the chapters of the Scleroderma Foundation has a three fold mission to provide patient support, patient education and to raise funds for research – the goals being to find a cure, and to develop better treatments of all aspects of this disease.
Located in Binghamton NY, Tri-State services New York State, Northern New Jersey and Connecticut. There are presently 12 support groups available within the chapter's area of service including 8 in New York, 3 in Connecticut and 1 in Northern New Jersey.
The chapter also hosts several educational forums per year where the featured speakers are doctors or other health care professionals such as Dentists, Occupational Therapists, or researchers...topics may be outside the health sphere and into the legal aspects of patient care. (although you can watch many of these talks on this site, we strongly recommend attendance so you can interact with the experts, ask your questions, network with other patients, support group leaders and Tri-State staff)
The Chapter also hosts numerous fundraisers throughout each year. Ever June they host a series of Awareness walks to both raise money and awareness – please check Tri-State's site for this years schedule.
With changing tax laws, non-profits everywhere are hurting – to keep the programs going, donations are needed and gratefully appreciated.
You can give to the Scleroderma Foundation on their site, and there are other things you can do. If you shop on Amazon.com you can support the Tri-State Chapter through AmazonSmile.
Clicking on the logo will bring you to the website of the Scleroderma Foundation's Tri-State Chapter: